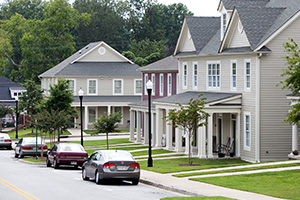 The area of the law that applies to public and affordable housing is highly specialized – only a handful of expert attorneys practice in this area nationwide. We have attorneys on staff who have earned national reputations for their expertise in these areas.
SPGG has broad experience in affordable housing and economic and community development activities in Georgia. Our attorneys have worked with housing authorities, developers, nonprofit organizations, the U.S. Department of Housing and Urban Development ("HUD"). HUD contractors, banks and underwriters on a variety of public and affordable housing projects.
Our expertise – and the reputation we've earned in this area of the law – is a result of our commitment to excellence. We constantly work to keep our knowledge of affordable housing up to date in order to provide the most effective legal services to our clients.
In addition to an in-depth understanding of the law as it affects public and affordable housing issues, we have a long history of working effectively with public-sector entities such as local governments, nonprofit developers, and special purpose authorities.
We can provide assistance with:
Federally-Assisted Housing and Community Development Programs
Low-Income Housing Tax Credit (LIHTC) Development
Dispute resolution, 2530 clearance, partial payments of claims, and prepayment lockouts
Public Housing
Nonprofit Housing
New Markets Tax Credit Development
Senior Housing and Assisted Living
Attorneys