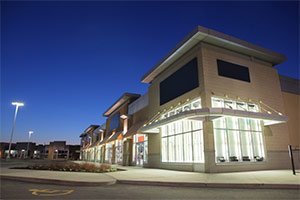 When you choose a law firm to handle your commercial real estate needs, you want a legal team that has extensive experience in all aspects of commercial projects and that stays current with the rapid changes to federal, state and local laws.
The real estate attorneys on the SPG team have extensive experience handling a broad array of complex transactions. The knowledge gained with this experience allows us to find creative, legally-sound solutions that help our clients reach the best possible outcomes. Our clients include lenders, buyers, sellers, investors, developers, underwriters, landlords and tenants from all areas of commercial real estate and land use.
The attorneys you select for your commercial real estate venture are vital to the sucess of that project. We can assist in the financing, development, acquisition, leasing or selling of office buildings, industrial properties, shopping centers/malls, and any other type of commercial property. Find out for yourself how SPG's experience and commitment to the highest quality legal services can help you reach your goals.
SPG attorneys are experienced, knowledgeable, and ready to help with all aspects of commercial real estate matters, including:
Timberland & farm land
Assessments
Land use & zoning issues, including LED billboards/signs
Mining (e.g., kaolin) & industrial
Shopping centers
Conservation easements, environmental compliance, wetland mitigation, & underground storage tanks
Easements, restrictive covenants, and right of ways
Mortgage lending regulation/secondary mortgage markets
Commercial real estate transactions, financing and workouts
Real estate taxes
Commercial leasing
More often than not, commercial real estate matters call for knowledge in related areas of law. Because we are a multidisciplinary firm, SPG can provide our clients with a full range of legal services.
Attorneys